Family
A Brief History of the James Simister Family
Our family started on a beautiful Friday the 13th in December of 1996, when I married my lovely sweetheart in the Salt Lake City Utah Temple of the Church of Jesus Christ of Latter-Day Saints. We now have six children: Joshua, Kayla, Hannah, Lexi, Mariah, and Eli.
James
I was born here in Salt Lake City, Utah, on the Ides of March as the third and last in my family. I had a great childhood, but you probably don't want to stick around while I rattle on about it, right? I'll just highlight some of the more interesting events in my life...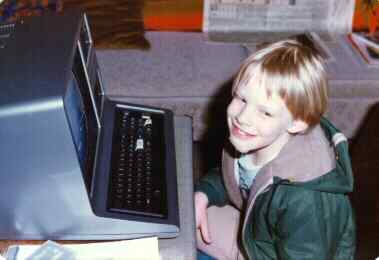 Ever since I was about 8 years old, computers have been a part of my life. My dad bought an old (well, new at the time) TRS-80 Model III computer while my sister was in college. The first thing he told me was "don't touch", so naturally it spawned a great interest within me. I learned how to spell "supercalifragilisticexpialidocious" from the many times I had the computer print it out 100 times (good ol' BASIC for-next loops). From there, I learned more and more by reading the manuals, playing around, and finding ways to take control of the machine. The days came when I taught myself Pascal, C, and C++ in a neverending quest to take the reins of my computer. I also played around with assembly here and there, and wrote a few raw machine-code programs for a home-brewed Z80 machine built by my electronics-fanatic dad. The years had passed with a growing desire for computer science -- no wonder I have a bachelor's degree in it today.
But that's my computer side. It's all obvious I like computers, or I wouldn't even have this home page! :) Now for more interesting things...
I'm really an outdoors type person. You might not notice since I'm usually found in front of a computer both at work and at home, but I do like to get outside when I can. One of my favorite activities is riding my bike, even though I seldom find time to use it for leisure.
Another one of my favorite places is Yellowstone National Park. It's always fascinated me ever since I was a very tiny baby... I was only a few months old when I first saw the place. I don't remember the trip all that well. But we've taken vacations frequently there, and I've got a huge collection of pictures to prove it. Perhaps that's what motivated me to be a photographer as well. :)
Photography has kept me busy on most of my excursions away from Salt Lake City. Not that I've been on that many... mainly just vacations. But I do enjoy taking pictures. Usually landscapes and sunsets pique my interest, although I usually don't mind if my cute wife happens to sneak into the shot... :) More recently, I have had the opportunity to travel to Japan about twice each year. Usually the trips involve little time for sightseeing, but I have been able to capture some fantastic pictures on a couple of occastions.
I also enjoy writing, although I don't do it all that much. I usually never have the time that I really want to sit down and compose something that I feel is worthwhile. I have however, over the years, accumulated a few things I consider of value (see my Gallery ). One of my goals is to write a short story, or even better, a book... You know, make lots of money off the next best seller. :) It could happen!! :)
There is another activity that keeps me inside other than the computer. I love to play the piano. I only know a handful of songs, but it's always nice to take out my frustrations by completely slaughtering a piece on the piano... Every once in a while I happen to play one right, though. I have a Weber upright and a GeneralMusic REALPiano PRO1 keyboard right now, though my dream "machine" is a real Steinway Concert Grand (yeah -- dream on). The PRO1 allows me plenty of freedom -- it's hooked up to my computer with MIDI. I've composed a few pieces that probably fit somewhere in the really low-budget new age music arena, but they're fun to listen to anyway.
Amber
Amber was born just 4 days before James in Ogden, Utah, as the oldest of 4 children. Throughout her childhood her family moved several times, making it difficult to call any place "home". After finally settling in Kansas she attended LDS Business College in Salt Lake City. Through a mutual friend, she was introduced to James and the two hit it off immediately.
Amber is kept busy most of the time taking care of the young children. She also loves scrapbooking, photography, and playing computer games.
Children
| Name | Birthtime | Hopital | City | Weight | Length |
| --- | --- | --- | --- | --- | --- |
| Joshua | 4:18 p.m. | University of Utah | Salt Lake City, UT | 6 lbs. 15.8 oz. | 19.25 in. |
| Kayla | 7:01 p.m. | St. Mark's | Salt Lake City, UT | 7 lbs. 13 oz. | 19.5 in. |
| Hannah | 2:50 p.m. | St. Mark's | Salt Lake City, UT | 6 lbs. 13.5 oz. | 19.25 in. |
| Alexis | 1:57 p.m. | Timpanogos | Orem, UT | 7 lbs. 15.4 oz. | 20.0 in. |
| Mariah | 10:26 a.m. | Timpanogos | Orem, UT | 8 lbs. 1.2 oz. | 20.0 in. |
| Elijah | 1:11 p.m. | Timpanogos | Orem, UT | 7 lbs. 10 oz. | 19.5 in. |